Bitcoin Investor Lost On Every Trade. Here's Why
Jordan kept repeating the same mistake: He would chase the market after a bullish run and then dump his holdings a few weeks later when the reversal occurred.
This pattern repeated itself more than a few times last year, and typically began after (insert Asian country here) threatened to shut down crypto markets or restrict citizens' access. The financial news media would rush to publish bitcoin obituaries, and bears who had been short since $1,000 would triumphantly declare victory. The latest wave of crypto investors would head for the exits.
Seasoned crypto traders have a name for this condition — it's called "FUD": fear, uncertainty and doubt.
In each of these instances, bitcoin resurrected, buyers returned and those minus-30% sell-offs were followed by rallies of 76%, 237%, 183%, 165% and 152%.
After selling into the latest panic, bitcoin investors like Jordan would then feel their emotional pendulum swing from the fear of losing to the fear of missing out, as prices became a simple manifestation of greed and fear. They would then jump right back in.
Here Come the Millennials
All investments mirror the behaviors of their buyers and sellers.
Speculative investments are more volatile partly because they attract risk-seeking individuals. On the other hand, conservative investments exhibit lower volatility due to the prevalence of buy-and-holders. That's part of why cryptos are so volatile.
Now, while some investors may sell too early, causing them to lose out on profits, there's also the opposite problem.
A few years ago, a Coinbase study found that nearly 60% of users were under the age of 34. Suffice it to say, millennials have a higher risk tolerance than older investors with children trying to save for retirement.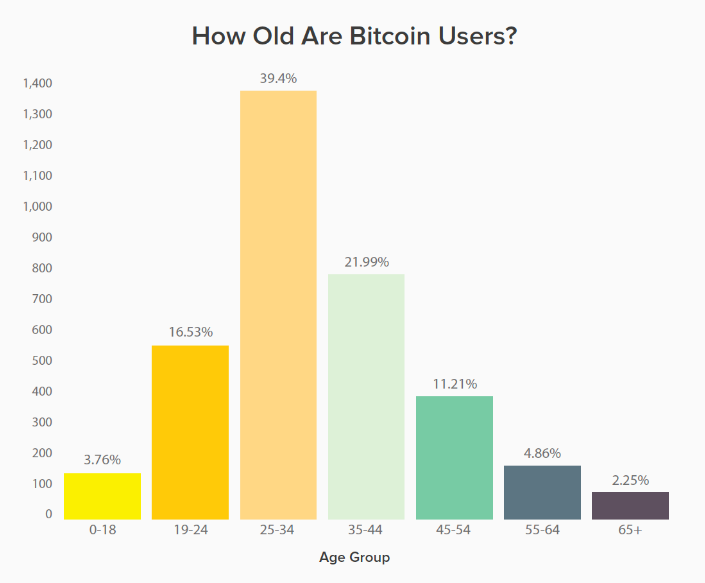 It is not surprising that the crypto markets are dominated by millennials. Entering these markets requires the technical prowess of a generation raised on information technology, and a willingness to trust the digital mechanics that power cryptocurrencies.