Bitcoin Hits $49,700 As Institutions Now Own 3% Of The Circulating Supply
Less than a week after Bitcoin soared on Tesla's announcement that Elon Musk had purchased $1.5BN in the cryptocurrency, overnight bitcoin hit a new all-time high just shy of $50K, rising as high as $49,700 before reversing modestly.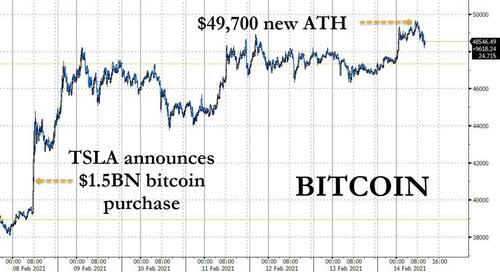 There was no specific catalyst behind Sunday's move higher, which appeared to be the result of profit-taking rotation out of various smaller altcoins - which had soared in the past few days - into bitcoin. In other words, it now appears that retail investors are getting bored with penny stocks and instead are flooding into "penny stock" cryptos (those trading below $1.00) and other less liquidity altcoins, and ramping them up before converting profits to bitcoin.
Additionally throughout the past several days, as Bitcoin's consolidated in the mid $40,000s, analysts pinpointed the continuous increase in stablecoin inflows. According to data from CryptoQuant, a data analytics platform, the Stablecoin Supply Ratio (SSR) rose significantly as Bitcoin rallied from the mid-$30,000 region.
The SSR indicator shows the ratio of the market cap of Bitcoin relative to the aggregated market cap of stablecoins. When the price of Bitcoin rises in tandem with the SSR ratio, then it means it is likely being driven by sidelined capital re-entering the market.

Two additional reasons for the new record according to CoinTelegraph, were the clean break of the $38,000 resistance area, and a prolonged consolidation phase.
But the biggest reason for the ongoing surge in bitcoin whose next target is $100,000 is the continued institutional adoption (just as we explained one month ago in "How Bitcoin Hits $100,000 Next: Morgan Stanley Boosts Stake In Microstrategy, Opening The Floodgates"
"With each major announcement like the one BNY Mellon made, other institutions are spurred to more rapid adoption and deployment of digital assets," Patrick Campos, chief strategy officer at Securrency, told Bloomberg on Friday.
Disclosure: Copyright ©2009-2021 ZeroHedge.com/ABC Media, LTD; All Rights Reserved. Zero Hedge is intended for Mature Audiences. Familiarize yourself with our legal and use policies every ...
more