Bitcoin Crashes 15% Amid Unsubstantiated Report Of Money Laundering Crackdown
In a crash that started late on Saturday evening and accelerated throughout the night, Bitcoin and the entire cryptocurrency space plunged the most in more than seven weeks, just days after hitting a new all-time high ahead of the Coinbase IPO.
Bitcoin fell 12% to $53,400 as of 8:0 a.m. in New York on Sunday, after plunging as much as 15.1% to $51,707.51 in the Asian day. Ethereum, the second-largest token, dropped almost 18% before paring losses.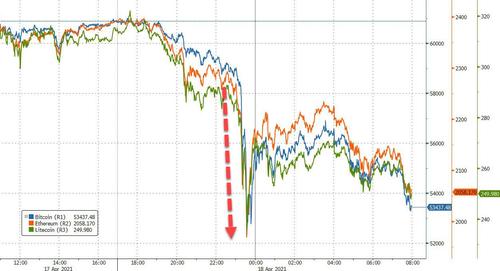 The market-wide crash has in $1.72 billion worth of long positions liquidated in just one hour alone. Expanding this range to 24-hours shows that 927,000 traders' positions worth nearly $10 billion were wiped off, with $68.73 million being the largest liquidation so far according to FX street.
The crash appeared to coincide with an unconfirmed twitter report from a supposedly credible source that the Treasury could crack down on money laundering using cryptocurrencies.
U.S. TREASURY TO CHARGE SEVERAL FINANCIAL INSTITUTIONS FOR MONEY LAUNDERING USING CRYPTOCURRENCIES -SOURCES

— FXHedge (@Fxhedgers) April 18, 2021
Whereas this account traditionally blasts Reuters or Bloomberg headlines, in this case there was no such underlying report from either Reuters or Bloomberg, and Bloomberg even said that "several online reports attributed the plunge to speculation the U.S. Treasury may crack down on money laundering that's carried out through digital assets."
Furthermore, in comments just earlier this week, regulators refused to take a position on bitcoin either way, even as speculation of a crackdown against bitcoin by the US government is ever present - indeed, the rumor of a "crackdown" against money laundering has always been present, which is why said tweet merely poured gasoline on an already jittery market.
In other words this was a case of "goal seeking a narrative" and framing it as a rumor to justify a prior action.
Disclaimer: Copyright ©2009-2021 ZeroHedge.com/ABC Media, LTD; All Rights Reserved. Zero Hedge is intended for Mature Audiences. Familiarize yourself with our legal and use policies every time ...
more