Bitcoin (BTC), Ethereum (ETH), Alt-Coins - Recovery Remains Fragile, Volatility Stuck At Near-Extremes
Last week's heavy sell-off is gradually being pulled back with the market close to recovering from last Wednesday's wipe-out. The market still remains in the red over the last seven days and the last three daily candles, including today, highlight an indecisive market held within a narrow trading range. Further consolidation around current levels may well precede a move higher, but volatility still remains at near-record extreme levels and a sudden breakout, either way, cannot be ruled out. For Bitcoin to recover further the $42,000 area needs to be reclaimed.
BITCOIN (BTC/USD) DAILY PRICE CHART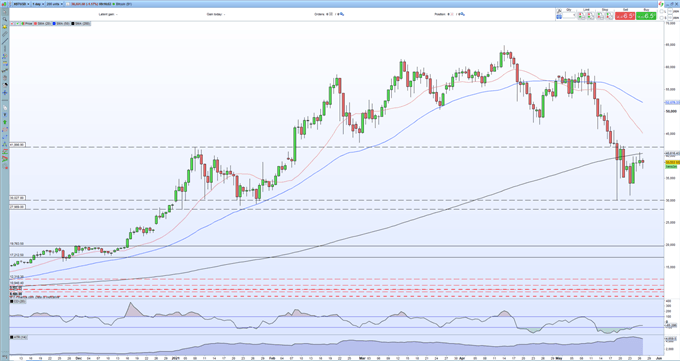 The Ethereum/Bitcoin spread collapsed last week after a strong push higher off the late-March low. Again, consolidation is needed to push this spread back to the cluster of recent highs on either side of 800. The macro-talk of Ethereum overtaking Bitcoin in market capitalization terms is still alive, with Goldman Sachs the latest to predict that Ethereum 'has a high chance of overtaking Bitcoin as the dominant store of value'.
ETHEREUM/BITCOIN (ETH/BTC) DAILY PRICE CHART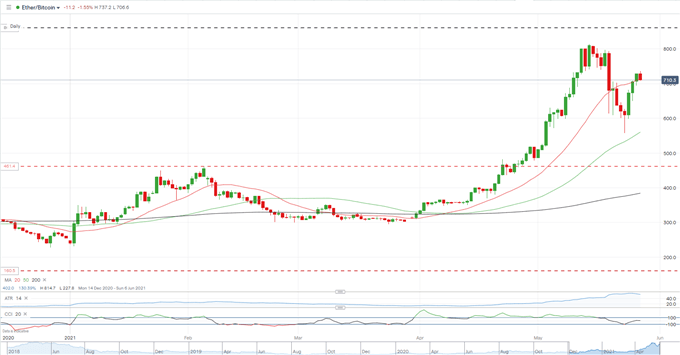 The alt-coin market also remains volatile with a mixture of 7-day losses and gains seen across the space. Ripple (XRP) is down around 12%, Polkadot (DOT) is currently showing a 7-day loss of 16%, while Solana (SOL) is lower by 15%. Uniswap (UNI) and Chainlink (LINK) are up 12% and 16% respectively, while Ethereum Classic (ETC) is showing a 7-day gain of 15%.
Disclosure: See the full disclosure for DailyFX here.