Bitcoin Bounces Back Above $50K After Square, MicroStrategy Buying
Bitcoin has bounced back from its lows around $45,000 yesterday to over $50,000 this morning following reports from Square last night, and MicroStrategy this morning, of more corporate HODLing.
(Click on image to enlarge)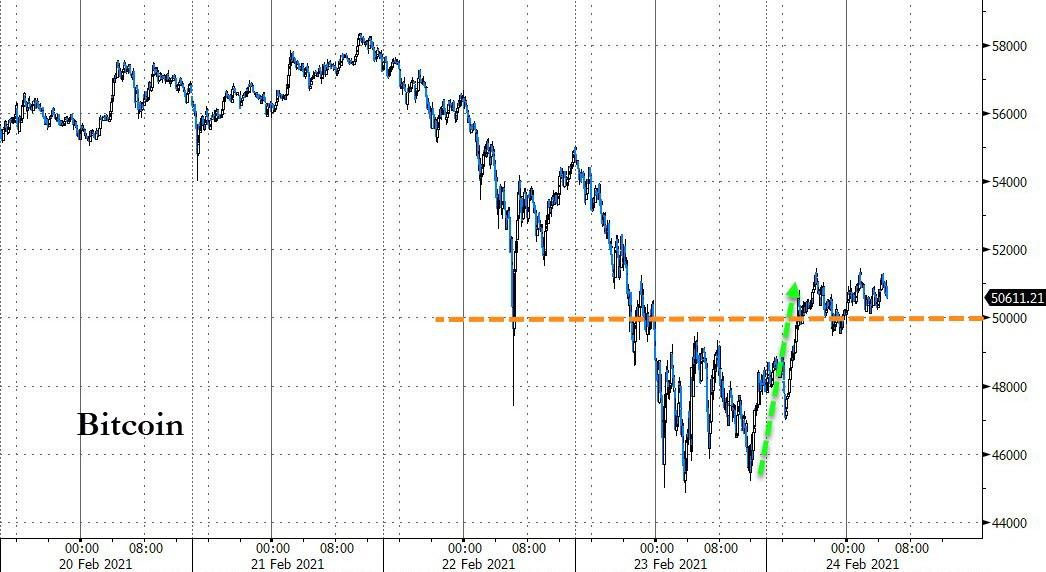 Source: Bloomberg
After reports that Square added $170 million of Bitcoin to its reserves, MicroStrategy today announced that it had purchased an additional approximately 19,452 bitcoins for approximately $1.026 billion in cash at an average price of approximately $52,765 per bitcoin.
As of February 24, 2021, the Company holds an aggregate of approximately 90,531 bitcoins, which were acquired at an aggregate purchase price of approximately $2.171 billion and an average purchase price of approximately $23,985 per bitcoin, inclusive of fees and expenses.
"The Company remains focused on our two corporate strategies of growing our enterprise analytics software business and acquiring and holding bitcoin," said Michael J. Saylor, CEO, MicroStrategy Incorporated.

"The company now holds over 90,000 bitcoins, reaffirming our belief that bitcoin, as the world's most widely-adopted cryptocurrency, can serve as a dependable store of value. We will continue to pursue our strategy of acquiring bitcoin with excess cash and we may from time to time, subject to market conditions, issue debt or equity securities in capital raising transactions with the objective of using the proceeds to purchase additional bitcoin."
"MicroStrategy remains dedicated to our enterprise analytics customers and our goal of operating a growing profitable business intelligence company," said Phong Le, President & CFO, MicroStrategy Incorporated.
"We believe our bitcoin strategy, including our bitcoin holdings and related activities in support of the bitcoin network, is complementary to our software business, by enhancing awareness of our brand and providing opportunities to secure new customers."
Disclaimer: Copyright ©2009-2021 ZeroHedge.com/ABC Media, LTD; All Rights Reserved. Zero Hedge is intended for Mature Audiences. Familiarize yourself with our legal and use policies ...
more