HH

Biotech Bear Market: But Is It Time To Start Trading?
Update at Close 11/9/18 Remain Cautious as Rally Fails
The Nasdaq is down 1.6% and the Russell 2000 is down 1.8%, sold off killing hopes of a continued Post-Election rally. The biotech sector is for experienced traders only. Healthcare still looks good overall with the XLV down only 0.29% at $92.95.
The XBI has crushed again down 4% to $80.77 showing that investors are seeking safety. The IJR was down 1.73% to the $80 level.
Mid-cap biotechs were in a broad sell-off mode with a red screen.
==========
Update 10:45a 11/7: Nimble Trading Brings Big Short Term Gains in Biotech
XLV up 2.6% over 5 days, 11.37% YTD on the perception that DEMs are pro-healthcare coverage with gridlock on drug pricing caps.
=======
Update 11:30a 11/7: Post-Election Rally with Healthcare Stocks Leading
NASDAQ up 1.83%.
IJR feeble rally to $80.8 but up 4.38% YTD and 2.78% over 5 days.
Expansion of Medicaid in Several States etc. brings XLV up 2.5% to $92.83.
Large cap, mid-cap biotechs solid green.
IBB up 1.8% to $110.46 heading toward 50% of re-tracement of recent losses.
XBI up 1.6% to $84.8 well above 10/24 bottom near $77.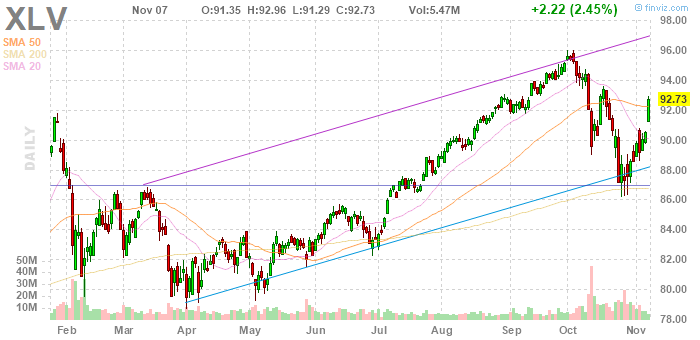 Biotech Bear Market: But Is the Bottom In?
Technicals Rule with Valuations Not Supported by Q3 Earnings
Seasonality Comes into Play in Q4 with Scientific Meetings (ASH) and the Election Over
We saw some nice moves off the bottom last week that shows that investors are ready to jump back into biotech stocks despite a brutal October meltdown that brought major ETFs down as much as 20% off 2018 highs, a biotech bear market interpretation. Many stocks and indices peaked on August 30. But 2018 has been a volatile year with a huge sell-off in February, lows in May, followed by an ASCO rally through August. We briefly rallied to all-time highs in the sector but now have fallen below previous highs of July 2015.