Big Expansion In Productivity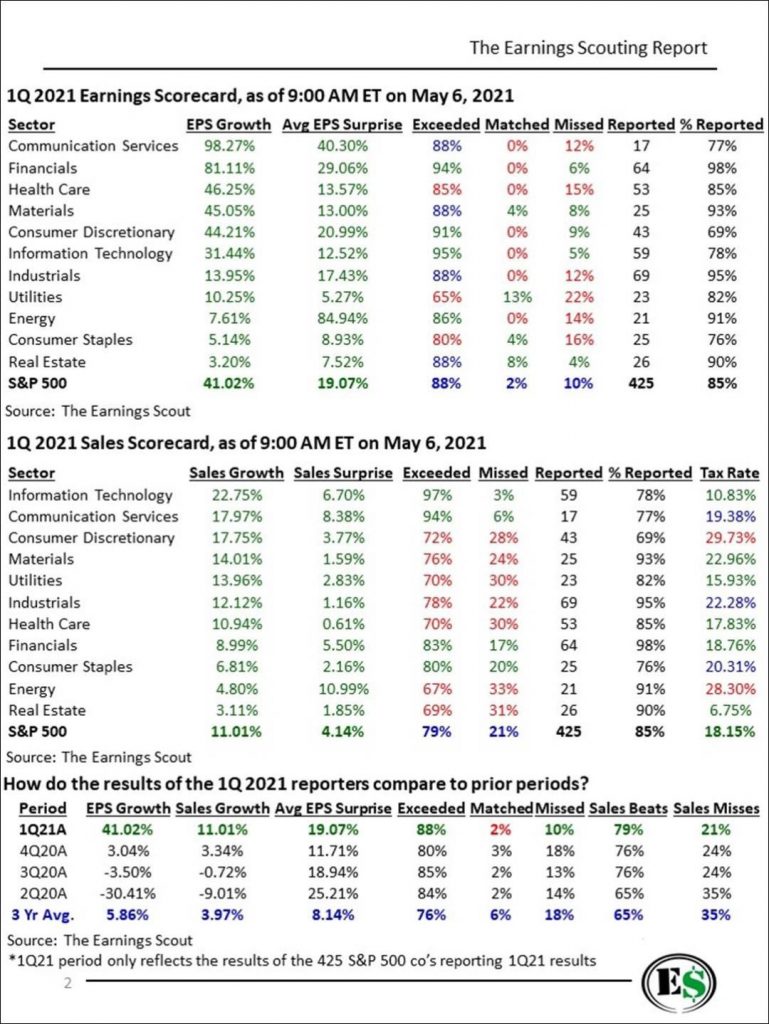 94% of financial beat estimates and EPS growth was 81.11%. This was one of the best earnings seasons ever for the sector. Sales growth was also amazing. S&P 500 sales growth was 11.04%. The average beat was 4.14%. 79% of firms beat sales estimates which is above the 3 year average of 65%. The average tax rate was 18.15%. Tech firms only paid a 10.83% tax rate. Taxes are about to move a few percentage points higher based on Biden's corporate tax increase and the 15% global minimum tax rate implemented by the G-20.
It's amazing to watch the increase in EPS growth estimates in Q2 and Q3. Q2 will have peak earnings growth since we will be lapping the worst of the pandemic's impact on the economy. Q2 EPS growth was expected to be 37.92% at the start of the year. With the vaccine distribution going so well and a stimulus passing, the consensus EPS growth estimate has risen to 56.53% as of May 6th. Q3 EPS growth estimates have risen from 13.98% on March 1st to 18.94%. Finally, growth will normalize in Q4 as analysts expect 15.95% growth. We could see estimates come down like they usually do leading up to Q4 since the comp will be much tougher than the first 3 quarters of the year.
Reopening Shift
The economy went through dramatic shifts in the past 14 months. There was an extremely quick increase in the use of technology to connect people and order goods/services. The entire economy went digital within a few months. We are lucky to live in such a technologically connected world. Had this pandemic occurred 15 years ago, technology wouldn't have been able to save the economy like it did in 2020. In the long term, we will benefit from all the innovation that occurred last year.
The table above shows the website growth rates for various stores. There was a massive increase in online shopping and pet buying/adopting last spring. We are now lapping that spike which is why Chewy's web traffic is only up 8% from last year. Similarly, GameStop's web traffic is down 18% from last year because people spent much more on gaming last spring because they were stuck inside. Some video game bulls believe all the spending will be maintained because the industry is in secular growth mode. While it is a long-term growth story, it's unlikely that time spent will remain at its peak when the pandemic is over.
Disclaimer: The content in this article is for general informational and entertainment purposes only and should not be construed as financial advice. You agree that any decision you make will be ...
more