Bench-Marking Volume On The Daily Chart For Bitcoin
I've highlighted in previous posts why it is that Bitcoin is trading in a congestion phase at present which in short is the result of the volatility candle of the 19th of May. However, what I want to focus on here is the application of volume price analysis when trading cryptocurrencies of which Bitcoin is just one, but when we think about it logically, this is a price chart like any other, and provided we have volume can be read in exactly the same way as any other instrument. And it was yesterday's up candle which was particularly interesting in this context.
If we consider the price action since the volatility candle on the daily chart we have had four up candles of similar size since then, with the last being yesterday. But look at the volume on each – it is declining steadily and a worrying sign for yesterday's rally as it appears to be on relatively low volume. I have numbered these candles 1, 2, 3, and 4 for easier reading and as you can see, whilst not identical they are similar and this is one of the many techniques we use when applying the volume price analysis methodology. It is what we call benchmarking as it gives us a yardstick by which to judge volume against previous candles of a similar size and shape. Doing so also gives us a metric by which to judge whether price and volume are in agreement or whether we have an anomaly. In this case, we must also allow for the fact this was a Sunday, which could be a factor. Nevertheless, the volume looks a little weak. In addition, we have a strong level of price resistance now building at the psychological level of $40,000 and this too is now in play. So two technical reasons why a move higher for Bitcoin may be a struggle at this level.
(Click on image to enlarge)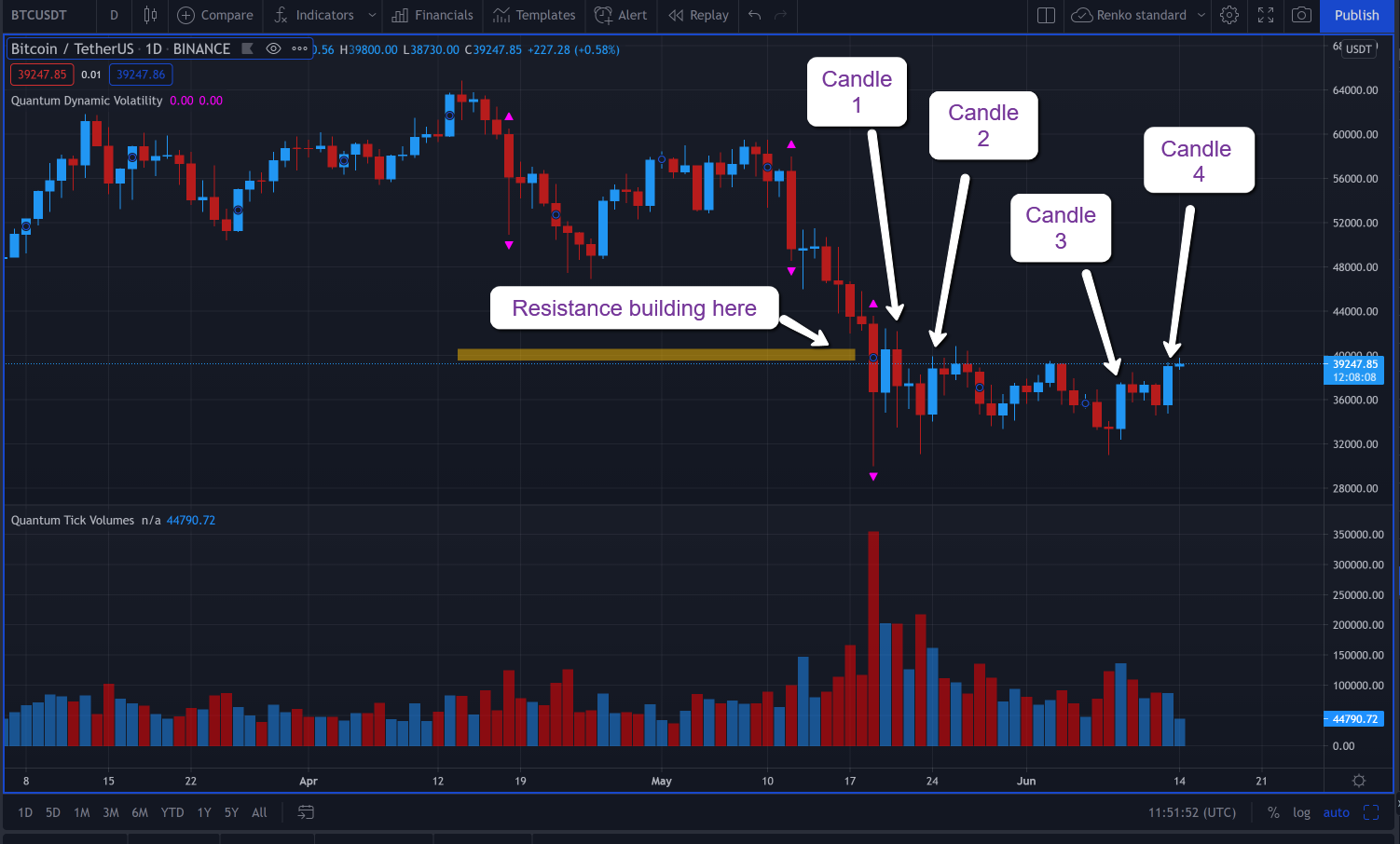 Disclaimer: Futures, stocks, and spot currency trading have large potential rewards, but also large potential risk. You must be aware of the risks and be willing to accept them in order to invest in ...
more