Beige Book Finds Prices Rising Everywhere
In keeping with the previously reported plunge in waiters and bartenders due to restaurant shutdowns, contacts in the leisure and hospitality sectors reported renewed employment cuts due to stricter containment measures.
On the plus side, firms in most Districts reported that wages increased modestly, as labor market conditions improved somewhat in some areas but generally remained weak. Employers in some Districts reported raising wages or offering more generous benefits, such as year-end bonuses and flexible work arrangements, to limit employee turnover.
Perhaps the most important observation by the Fed report is that almost all Districts saw modest price increases since the last report, with growth in input prices continuing to outpace that of finished goods and services, which of course means smaller profit magins.
Most notably, prices for construction and building materials, steel products, and shipping services were reported to have risen further. There was some good news, with contacts in several Districts noted an improved ability to raise final selling prices to consumers, especially in the retail, wholesale trade, and manufacturing sectors, and some cited plans to increase selling prices in coming months. This, ladies, is called inflation, and is what the Fed vows it can't find anywhere.
Also, and as we showed earlier, the price surge is just the beginning...
(Click on image to enlarge)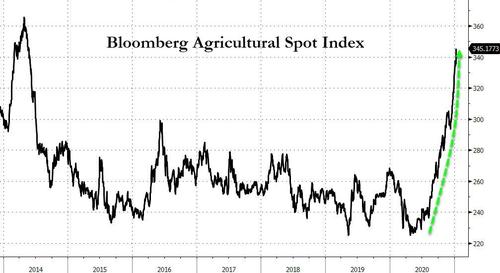 Naturally, energy prices picked up in the reporting period but remained below pre-pandemic levels.
Finally, home prices continued to surge, driven by low inventories and rising construction costs. Which is ironic because today's CPI report found that shelter costs were the lowest since 2011!
(Click on image to enlarge)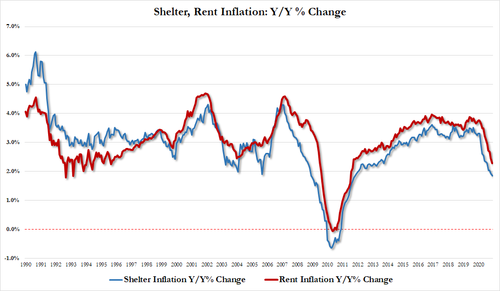 Looking at the word count of the beige book, there was a fractional improvement in the "slowness" category with 28 instances of "slow" in January, down from 30 in December, although concerns about covid jumped again with mentions of covid or coronavirus spiking from 53 to 58 in December, the most since April.
(Click on image to enlarge)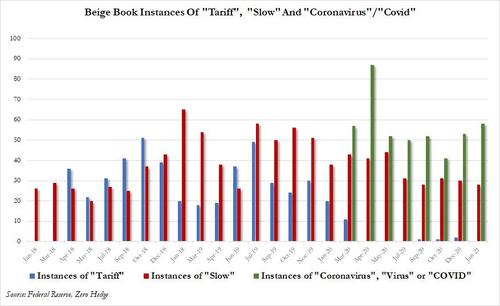 Finally, here are the highlights by District:
Boston
Recovery from the pandemic continued in the final weeks of 2020, with mixed results across sectors. In particular, hospitality and travel remained hard-hit. Among firms that were hiring, some cited difficulty finding workers; other firms held headcounts steady or allowed attrition. A substantial dose of pandemic-related uncertainty clouded an otherwise-optimistic outlook.
Disclaimer: Copyright ©2009-2021 ZeroHedge.com/ABC Media, LTD; All Rights Reserved. Zero Hedge is intended for Mature Audiences. Familiarize yourself with our legal and use policies every ...
more