Beige Book Finds Prices Rising Everywhere
One month after the November Beige Book toed the "modest recovery" party line with most of the Fed's 12 districts characterizing economic expansion as the trite "modest or moderate", even as four districts described "little or no growth" while five narratives noted that activity remained below pre-pandemic levels for at least some sectors, the economy seems to have picked up (despite pervasive lockdowns) and in today's released Beige Book which covered the month of December, we find that most Federal Reserve Districts reported that "economic activity increased modestly" since the previous Beige Book period, although conditions remained varied:
two Districts reported little or no change in activity,
while two others noted a decline.
Despite the "modest" improvement, reports on consumer spending were mixed with some Districts noting declines in retail sales and demand for leisure and hospitality services, largely owing to the recent surge in COVID-19 cases and stricter containment measures. Not surprisingly, districts reported an intensification of the ongoing shift from in-person shopping to online sales during the holiday season.
In keeping with today's observation that used car prices dipped for the 3rd month, the Beige Book found that "auto sales weakened somewhat since the previous report, while activity in the energy sector was said to have expanded for the first time since the onset of the pandemic."
10 Interesting Facts About Earth's Oceans
(Click on image to enlarge)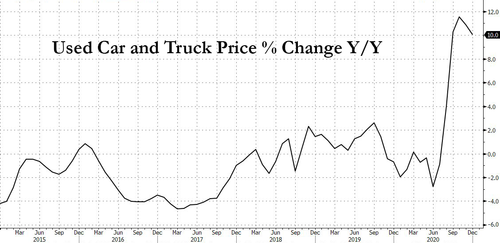 Some other observations:
Manufacturing activity continued to recover in almost all Districts, despite increasing reports of supply chain challenges.
Residential real estate activity remained strong, but accounts of weak conditions in commercial real estate markets persisted.
Banking contacts saw little or no change in loan volumes, with some anticipating stronger demand from borrowers in coming months for new government-backed lending programs.
Although the prospect of COVID-19 vaccines has bolstered business optimism for 2021 growth, this has been tempered by concern over the recent virus resurgence and the implications for near-term business conditions.
On the labor front, a majority of Districts reported that employment rose, "although the pace was slow and the recovery remained incomplete." However, confirming the dismal December payrolls, a growing number of Districts reported a drop in employment levels relative to the previous reporting period. Labor demand was strongest in the manufacturing, construction, and transportation sectors, with some employers noting staffing shortages and difficulty attracting qualified workers, especially for entry-level and on-site positions. These hiring difficulties were exacerbated by the recent resurgence in COVID-19 cases and the resulting workplace disruptions in some Districts.
Disclaimer: Copyright ©2009-2021 ZeroHedge.com/ABC Media, LTD; All Rights Reserved. Zero Hedge is intended for Mature Audiences. Familiarize yourself with our legal and use policies every ...
more