Archegos Positions Slide Amid Fears Of Stealth Prime Broker Deleveraging
While the S&P closed at a new all-time high, it was an ugly day for the so-called "Archegos stocks" which first puked two weeks ago when Bill Huang's family office was margin called to oblivion...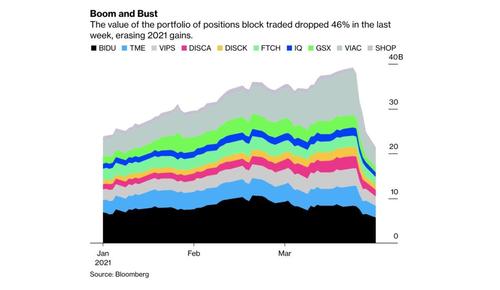 ... and despite stabilizing last week, today the selling resumed despite an early bump as GSX Techedu and Tencent Music were among the biggest decliners (falling as much as 12% and 6.4%) while FarFetch dropped 6.1%, ViacomCBS was down as much as 5.3%, Discovery -5.8%, Vipshop -3%, and Baidu -1.4%.
(Click on image to enlarge)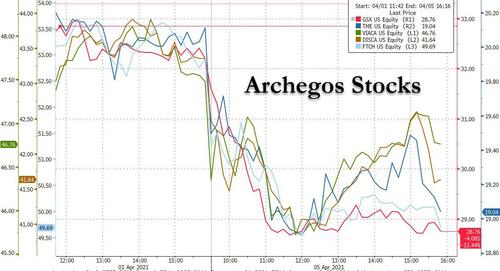 What was behind today's latest puke in "Archegos" positions: after all there were no Prime Brokers dumping blocks today? The reason is growing Twitter chatter that the big Prime Brokers with the most exposure to Archegos have yet to come clean on their full losses, and the reason for that is that they still have exposure to the now collapsed family office.
They haven't finished liquidation of Hwang.

For example NYT article revealed Hwang had ~200mm VIAC shares. GS, MS, WFC block sales were 105mm shares. CS/UBS haven't done block sales. How many shares are they holding?

— JC Oviedo (@JCOviedo6) April 5, 2021
As former Lehman trader Larry McDonald also chimes in, "Eight days after the Archegos hit - the scared rabbits across the Street have only been able to quantify a $10B to $12B loss, this fact gives the word "insult" new meaning." The loss, in question, being as large as $100 billion (with crazy leverage), so it would appear that someone is hiding something.
It also means that they may have (much) more to sell, unless of course they come out publicly and deny rumors that they are still on the hook to the Hwang unwind. And while we wait for either confirmation or denial, here are some thoughts from Larry McDonald who writes in his latest Bear Traps report that Archegos may be the catalyst that triggers a deleveraging cycle.
Disclaimer: Copyright ©2009-2021 ZeroHedge.com/ABC Media, LTD; All Rights Reserved. Zero Hedge is intended for Mature Audiences. Familiarize yourself with our legal and use policies every time ...
more