5 Popular Stocks To Avoid In 2021
2021 is shaping up to be a breakout year for stocks. Some stocks, at least. A lot more stocks will struggle. We're here to make sure they don't wind up weighing down your portfolio.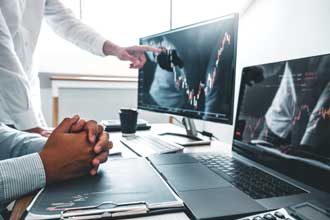 The pandemic has accelerated changes in how we live and do business. That's been great for some companies, like Zoom Communications Inc. (NASDAQ: ZM). It's going to get a lot worse for some other stocks.
These will be stocks to avoid in 2021. And we'll show you not only how to find these stocks on your own, but we'll show you five stocks to steer clear of too.
While our team here at Money Morning has been hard at work helping you make the most of the post-COVID-19 rally and finding new trends and companies to invest in for 2021, we also want to make sure you avoid some popular stocks that could wind up as 2021 busts.
You see, while major indexes hit record highs to close out 2020, not all stocks did so well. Far from it. When the markets reclaimed positive territory on the year back in July, nearly two stocks were losing value to every one stock that gained value.
Companies like Amazon.com Inc. (NASDAQ: AMZN) lifted indexes higher thanks to their $1.6 trillion market cap and 80% year-to-date gains. But that simply masked the many more companies that struggled and bogged down portfolios.
More than a few stocks have been swept up in the colossal run-up off the March lows that haven't earned their sky-high share prices. And some of these future clunkers are Internet and media darlings thanks to the returns they've brought shareholders so far.
Holding one of these stocks could be like holding a ticking time bomb. Once that first bad earnings report rolls in or a big investor hits the "sell" button, the share price could fall like a house of cards, and you don't want to be the one left with the mess.
By spring of 2021, most of us will have had a chance to get vaccinated against COVID-19 and start moving the world toward something resembling normal.
What other surprises 2021 will have in store for us remains to be seen.
Let's start with how to find these risky stocks in 2021, and then we'll show you a few of these stocks to sell or avoid altogether in the new year.
6 Signs of When to Sell a Stock
The key to knowing when to sell a stock or avoid one outright is to not make decisions based on opinions or let personal bias get in the way of smart decision-making.
Maybe you've seen a stock go on such a tear that you want to buy into it and hope it happens again. Maybe you already own one of these stocks and can't fathom cutting ties with a company that's made you money.
But these are biases that could hold you back.
Instead, let's look for those red flags that have been reliable indicators that a stock is on thin ice.
There are six signs of stock to sell, and you can find them all in the financial statements, insider and institutional activity, and short interest.
You should give serious thought to selling or reducing position in any stocks that are showing these signs. If you do not already own them, you should avoid them until the situation changes for the better.
Using what we can see and know is a much smarter way of determining where potential pitfalls may lay than gut instinct or listening to the talking heads on TV.
The first red flag is stock in an overbought sector.
Knowing the overbought sectors is critical when it comes to avoiding stocks that could be a big loser in early 2021. To help me find these sectors, I look at the relative strength of sector ETFs. Sector ETFs with relative strength readings over 75 have historically underperformed.
Disclaimer: Any performance results described herein are not based on actual trading of securities but are instead based on a hypothetical trading account which entered and exited the suggested ...
more